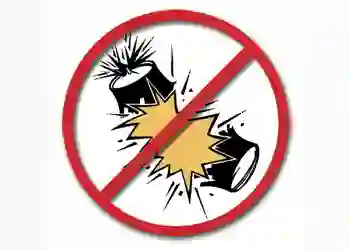 The Madhya Pradesh government has banned storage, transport, sale and use of Chinese and other foreign-made firecrackers in the state in keeping with the Union ministry of commerce guidelines in the matter. Uttar Pradesh Government has also imposed a complete ban on Chinese firecrackers.
The sale and storage of foreign firecrackers are banned under section 84 of the Explosives Act, 2008.
There is a provision of punishment under part 2 of section B of the Explosive Substances Act, 1908 for sale or storage of foreign firecrackers, which can carry life imprisonment or rigorous imprisonment for up to 10 years.
Most of the foreign crackers in the Indian market are from China.
The Madhya Pradesh government has also banned the use of firecrackers with the depiction of Hindu deities
Apart from Chinese fireworks in these states, states like Rajasthan, Odisha and West Bengal have banned the sale of firecrackers owing to the pandemic.
The National Green Tribunal also wants firecrackers to be banned this time around citing the environmental impact due to the pollution.
Apart from the pollution, the fireworks industry has been targeted over issues like employing child labour, accusations pertaining to noise pollution, etc.
But the fact remains that a large number of labours depend on this industry for the livelihood. The Sivakasi in Tamil Nadu accounts for nearly 90 per cent of the country's firecracker production and has 1,070 firecrackers units with about 3 Lakh workers directly employed and another 5 Lakh workers in the allied sectors.
Industry officials maintained that they are manufacturing 'green crackers' in accordance with formulations provided by the Council of Scientific and Industrial Research (CSIR) and the National Environmental Engineering Research Institute (NEERI).