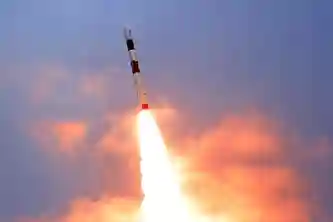 In its first mission of the year, ISRO launched 10 satellites via the PSLV rocket from Satish Dhawan Space Centre at Sriharikota.
The satellite included EOS-01, India's latest earth observation satellite and nine satellites from foreign countries -four each from the United States and Luxembourg and one from Lithuania. The last launch that ISRO conducted was on December 11, 2019. This year ISRO had its GSAT-30 sent to space, but using the launch by Ariane rocket launched from French Guiana. The subsequent schedule was disturbed by the COVID 19 pandemic
ISRO had planned more than 20 satellite launches for the financial year 2020-21. This included the solar mission, Aditya L1 and the unmanned Gaganyaan.
EOS-01, launched today is a Radar Imaging Satellite (RISAT) that will work together with RISAT-2B and RISAT-2BR1 which were launched last year. This will assist in applications like the land and forest mapping and monitoring, mapping of resources like water or minerals or fishes, weather and climate observations, soil assessment, geospatial contour mapping.
The launch was carried out using a new variant the PSLV rocket that has been flown only once before, in January last year, This variant does not become waste after depositing its satellite in the orbit. Instead, the last stage of the rocket, the one that remains after the satellite is separated, can acquire its own orbit and be used as an orbital platform for other onboard instruments to perform experiments in space. In effect, the fourth stage acts like another satellite, with a life span of about six months.
The Prime Minister congratulated the ISRO and Indian space industry for the successful mission