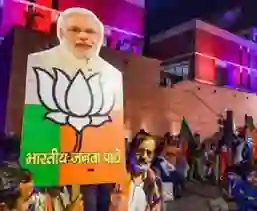 It was a nail-biting phase of counting which saw the results turning over multiple times, it is clear that BJP-led National Democratic Alliance was announced as the winner of the Bihar election in the early hours of Wednesday. The ruling JDU-BJP touched the majority mark at around 3 AM after a closely-fought race. The BJP finished with 74 seats, securing second place after the 75 seats captured by the RJD, led by Tejashwi Yadav. Nitish Kumar's JDU could only manage 43 seats 28 seats less than what it won last time.
Jitan Ram Manjhi's Hindustani Awam Morcha (Secular) and the Vikassheel Insaan Party won four seats each.
However, the performance of RJD under Tejashwi Yadav has to be termed as spectacular with 75 seats of 145 seats contested and without Lalu Prasad Ydav. It was the subliminal performance of the alley Congress that denied the Mahagathbandhan the rule. It just won 19 of 70 seats; eight less than it secured in 2015. The Left parties comprising of the CPI(ML), CPI and the CPI(M) also did well winning 16 out of the 29 seats contested.
Owaisi's AIMIM also 5 seats and his contest splitter the Muslim votes away from the Mahagathbandhan.
The Chirag Paswan's LJP, which cam out of NDA and contested alone could win only one sear. However, its contest could reduce the number of seats JDU could win.