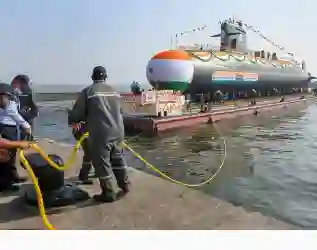 The fifth Scorpene conventional submarine, Vagir, being built by the Mazagon Docks Limited (MDL) with technology transfer from France was launched into water on Thursday. Project 75 India is a Navy project initiated to acquire six lethal submarines to establish its dominance in the region. The submarine is 50 per cent bigger than the Scorpene-class submarines.
Compared with the Scorpene, the firepower required in this next line of submarines is many times more than what is being put on the Scorpenes class submarines. The Scorpenes have the heavyweight torpedoes and the Exocet surface to surface missiles as their main weapons.
"The fifth of the Indian Navy's Kalvari class submarines of Project 75 has been launched on November 12 at the Kanhoji Angre wet basin of MDL," the Navy said in a statement. The ceremony took place through videoconferencing.
Navy would now commence the setting up of various equipment before proceeding with harbour acceptance trials. The Navy wants the submarines to be equipped with heavy-duty firepower. It has defined the submarines to have at least 12 Land Attack Cruise Missiles along with Anti-Ship cruise missiles. It would also be able to carry and launch 18 heavyweight torpedoes in the sea
The Navy said. that one the weapons are fitted, the crew will sail the submarine for the sea-acceptance trials, after which the submarine would be delivered to the Navy.
The first submarine under this, INS Kalvari joined Navy in December 2017. Navy subsequently inducted the second submarine, INS Khanderi by May 2019.. The third in the series, INS Karanj and the fourth vessel, INS Vela are in the advanced stages of trials.
The MDL is manufacturing six Scorpene submarines with technical assistance from Naval Group of France under a $3.75 bn deal signed in October 2005. The first one, Kulvari, was commissioned in 2018 and delivery of all the six is expected to be completed by 2022.
Mission Sagar-II
As part of the Indian Navy's Mission Sagar-II, which was on, INS Airavat delivered food aid to Djibouti at a ceremony on Wednesday, the Navy said.
Mission Sagar-II is a follow-up of 'Mission Sagar', undertaken in May-June 2020, during which India delivered food and medicines to Maldives, Mauritius, Seychelles, Madagascar and Comoros. Under Mission Sagar-II, INS Airavat had delivered 100 tonnes of food aid to Sudan and later to Eritrea.